a modern batavian
Published, edited, with images added & annotations

(in

red

)

by Kenneth S. Doig
(websource: Wikipedia)
The Batavi were an ancient Germanic tribe, that lived around the Rhine delta, in the area that the Romans called Batavia, from the second half of the first century BC to the third century AD. The name is also applied to several military units employed by the Romans that were originally raised among the Batavi.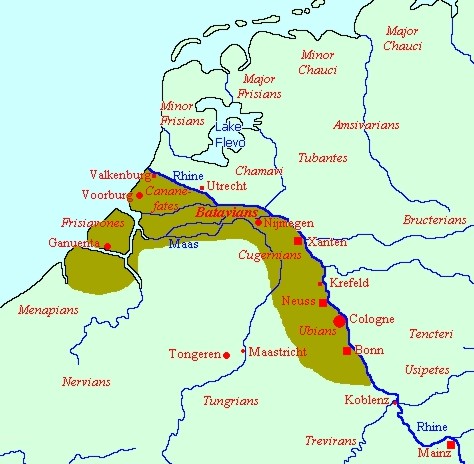 The tribal name, probably a derivation from *batawjō ("good island", from Germanic *bat- (cf. better, the unumlauted Gothic reflex, batis & the ON reflex batna "to improve", "to get better") "good, excellent" and *awjō "island, land near water"), refers to the region's fertility, today known (cognate to OE éa river, the 'ieg' or 'eg' in 'iegland', island, cf., Swed. å "river" 'ö' Dano-Norw. ø and nynork øy, Icel/ON ey, the -avia-,in the word, Scandinavia, from earlier a a latinized versions, e.g., Scatnauuia, from Gmc *Skaðinahwia, scathing-waters, for the  dangerous oceanstreams, maelstroms, eddies, rocky coastlines, seafloor obstacles around the Skagerak, Kattegat, the Belts & other dagerous waters in the western Baltic.
)
 as the fruitbasket of the Netherlands(the Betuwe).
Finds of wooden tablets show that at least some were literate.