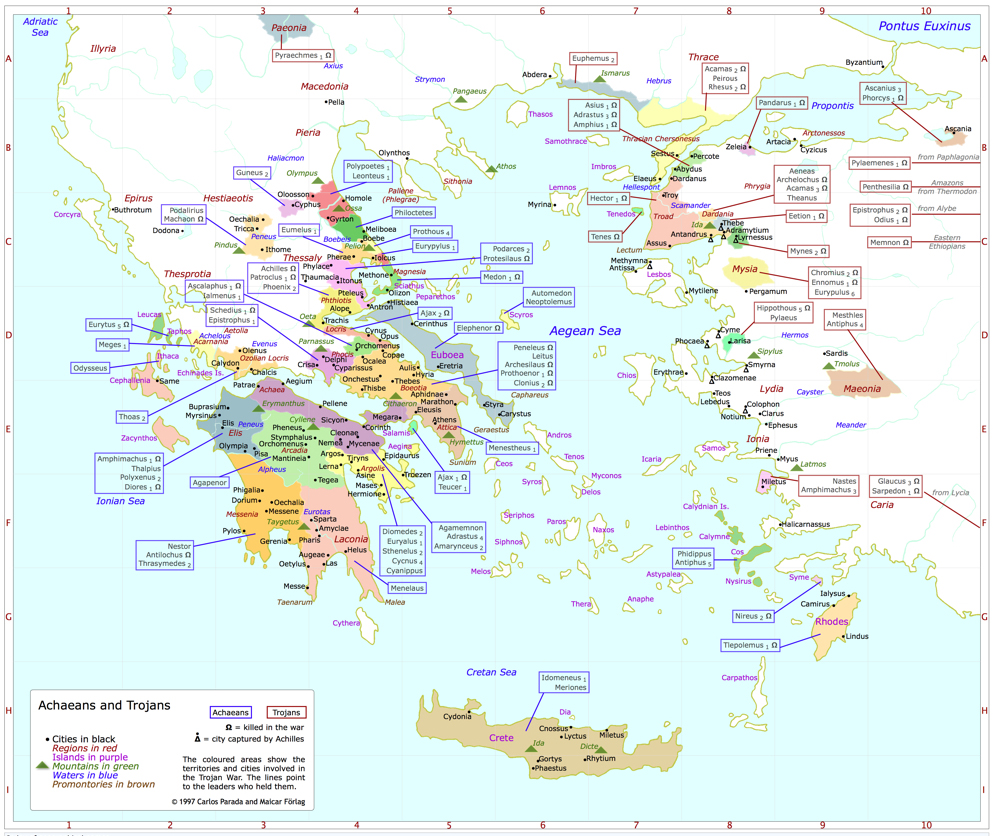 DETAILED MAP OF ANCIENT GREEK WORLD DURING ACHAEAN & TROJAN HEGEMONY IN
THE REGION DEPICTED. FROM CRETE IN THE SOUTH, UP, ALMOST TO MODERN ALBANIA
 IN NW & MOST OF WHAT TO DAY IS GREECE MAINLAND/HEARTLAND ISLES. IN THE NE,
NEAR MODERN ISTANBUL, CALLED THE BOSPORUS (LIT. OX-FORD) BY THE ANCIENT 
GREEKS SAT THE POWERFUL CITY-STATE OF WILION/ILION/TROY WHO CONTROLLED
THE NARROW SEA-LANE CONNECTING THE AEGEAN, HENCE TO THE MEDITITERANNEAN,
& BEYOND TO OPEN OCEAN & THE HUGE BLACK-SEA. THUS WAS TROY A THORN IN 
ACHAEA'S SIDE, IT BLOCKED ACHAEAN COMPLETE DOMINATION OF THE EASTERN
NORTHEAST/CENTRAL-EAST, MED & BLACK-SEA REGIONS. TROJANS WERE 
INDO-HITTITES (INDO-EUROPEANS [
IE
]) SPEAKING A FORM OF LATE HITTITE,
LUWIAN, THUS WERE RACIAL KIN WITH SIMILAR SPEECH (WHICH MAY HAVE
BEEN MUTUALLY INTELLIGIBLE AT SUCH AN EARLY DATE, c. 1250 BC WITH
HOMERIC GREEK/ACHAEAN GREEK WHICH DIFFERED GREATLY FROM THE CLASSICAL
GREEK OF PLATO, ARISTOTLE OF THE 7TH-5TH CENTURIES BC WHO WROTE IN THE
ATTIC DIALECT OF ANCIENT ATHENS). SINCE THE TROJANS WERE IE's,
THEY HELD SIMILAR RELIGIOUS BELIEFS & WERE SIMILAR IN CUSTOM,
CULTURE, METALLURGICAL & OTHER TECHNOLOGY. K.DOIG
CLICKING THE LINKS. HE HAS A FASCINATING WEBSITE & IS OBVIOUSLY A 
BRILLIANT SCHOLAR WHO'S DEDICATED MANY YEARS TO THIS SUBJECT. 
PUBLISHED, EDITED, FORMATTED, IMAGES ADDED & ANNOTATIONS

(IN

RED

)

BY KENNETH S. DOIG
2250 BC Achaeans come to Greece
About this year, as we may believe, first Hellenic tribes who were calling themselves Achaeans reached Greece. At that time the country was inhabited by non-Indo-European peoples which could be relative to the ancient population of Crete and Asia-Minor. Greeks called them sometimes Pelasgians, Lelegs, or Carians (an analogy with later inhabitants of Asia).
      ACHAEAN ART                     CRETAN BEACH
 Hellenes could come to the peninsula via Balkans, but it is more likely that they first appeared on the islands in the Aegean Sea,
and then on the continent. This, together with some historical materials (very ancient Greek names and settlements in Asia, like Milet or the name of Ahhiyawa) proves their way led from Asia to Europe across the Aegean Sea.
ACHAEAN SOLDIERS
The peoples who inhabited Greece before Indo-Europeans arrived, now had to be assimilated. However, 1500 years later Herodotus mentions