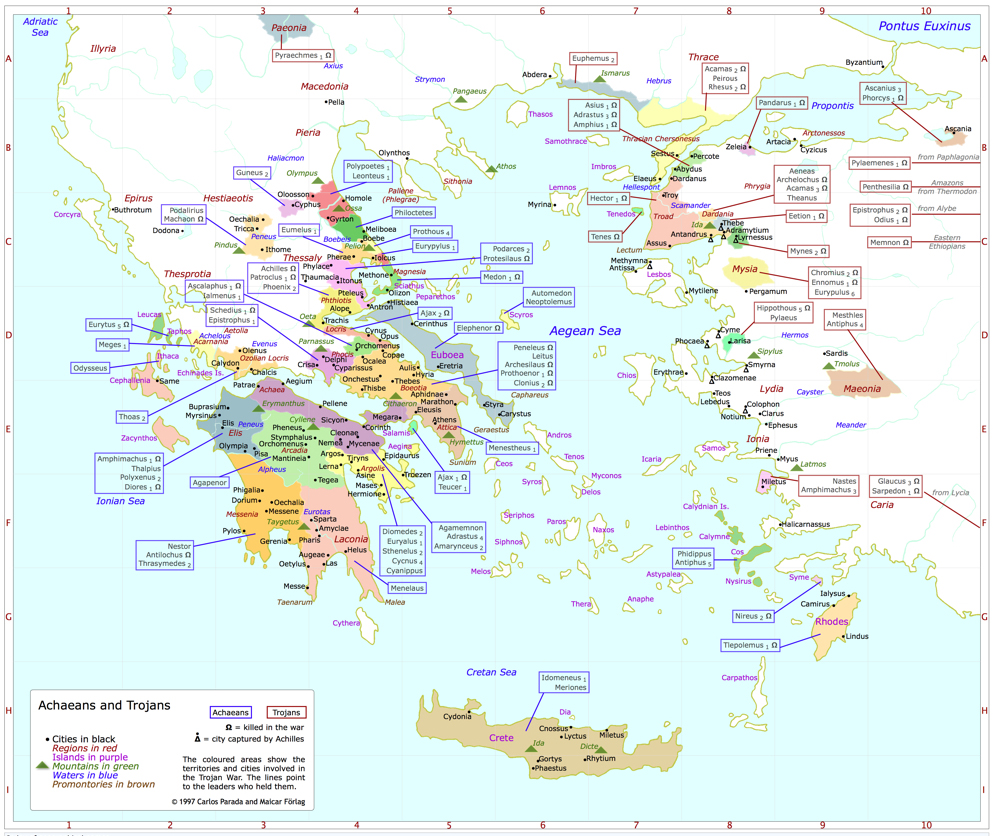 DETAILED MAP OF ANCIENT GREEK WORLD DURING ACHAEAN & TROJAN HEGEMONY IN
THE REGION DEPICTED. FROM CRETE IN THE SOUTH, UP, ALMOST TO MODERN ALBANIA
IN NW & MOST OF WHAT TO DAY IS GREECE MAINLAND/HEARTLAND ISLES. IN THE NE,
NEAR MODERN ISTANBUL, CALLED THE BOSPORUS (LIT. OX-FORD) BY THE ANCIENT
GREEKS SAT THE POWERFUL CITY-STATE OF WILION/ILION/TROY WHO CONTROLLED
THE NARROW SEA-LANE CONNECTING THE AEGEAN, HENCE TO THE MEDITITERANNEAN,
& BEYOND TO OPEN OCEAN & THE HUGE BLACK-SEA. THUS WAS TROY A THORN IN
ACHAEA'S SIDE, IT BLOCKED ACHAEAN COMPLETE DOMINATION OF THE EASTERN
NORTHEAST/CENTRAL-EAST, MED & BLACK-SEA REGIONS. TROJANS WERE
INDO-HITTITES (INDO-EUROPEANS [
IE
]) SPEAKING A FORM OF LATE HITTITE,
LUWIAN, THUS WERE RACIAL KIN WITH SIMILAR SPEECH (WHICH MAY HAVE
BEEN MUTUALLY INTELLIGIBLE AT SUCH AN EARLY DATE, c. 1250 BC WITH
HOMERIC GREEK/ACHAEAN GREEK WHICH DIFFERED GREATLY FROM THE CLASSICAL
GREEK OF PLATO, ARISTOTLE OF THE 7TH-5TH CENTURIES BC WHO WROTE IN THE
ATTIC DIALECT OF ANCIENT ATHENS). SINCE THE TROJANS WERE IE's,
THEY HELD SIMILAR RELIGIOUS BELIEFS & WERE SIMILAR IN CUSTOM,
CULTURE, METALLURGICAL & OTHER TECHNOLOGY. K.DOIG
CLICKING THE LINKS. HE HAS A FASCINATING WEBSITE & IS OBVIOUSLY A
BRILLIANT SCHOLAR WHO'S DEDICATED MANY YEARS TO THIS SUBJECT.
PUBLISHED, EDITED, FORMATTED, IMAGES ADDED & ANNOTATIONS

(IN

RED

)

BY KENNETH S. DOIG
2250 BC Achaeans come to Greece
About this year, as we may believe, first Hellenic tribes who were calling themselves Achaeans reached Greece. At that time the country was inhabited by non-Indo-European peoples which could be relative to the ancient population of Crete and Asia-Minor. Greeks called them sometimes Pelasgians, Lelegs, or Carians (an analogy with later inhabitants of Asia).
ACHAEAN ART CRETAN BEACH
Hellenes could come to the peninsula via Balkans, but it is more likely that they first appeared on the islands in the Aegean Sea,
and then on the continent. This, together with some historical materials (very ancient Greek names and settlements in Asia, like Milet or the name of Ahhiyawa) proves their way led from Asia to Europe across the Aegean Sea.
ACHAEAN SOLDIERS
The peoples who inhabited Greece before Indo-Europeans arrived, now had to be assimilated. However, 1500 years later Herodotus mentions
Pelasgians who still lived in Thessalia, on some islands and in several small cities in Greece.
YOUNG ACHAEANS WRESTLING
Hellenic tribes borrowed some religious beliefs from them (the chthonic [pertaining to the Earth; earthy; subterranean] gods of Earth, like Gé), as well as several words in the language: place names which have -th-, -ss-, -nt- suffixes, and some other words. In 1475 BC Achaeans invade and conquer Eastern Crete.
ACHAEAN WARRIORS SUCH AS AJAX, ACHILLES, ODYSSEUS, PATROCLUS ETC.
THEY FOUGHT IN THE TROJAN WAR UNDER THE "LEADERSHIP" OF THE ILL-
ADVISED & GREEDY MÝKÉNÁIN (MYCENAEAN) KING, AGAMEMNON WHO USED THE
EXCUSE OF HELEN´S (WILLING) 'KIDNAPPING' BY VISITING,THE THEN-FRIENDLY
TROJAN EMISSARIES, ON AN OFFICIAL STATE-VISIT.THE TWO PRINCES, BROTHERS,
TROJAN KING´S PRIAM´S SONS,
CROWN-PRINCE HECTOR (THE ELDER, FAR, FAR
BRAVER,
NOBLER OF THE TWO) & SPOILED, IMPULSIVE PLAYBOY-
PRINCE PARIS. WHILE AS OFFICIAL GUESTS AT KING´S AGAMEMNON´S COURT,
A MUTUAL, SECRET TRYST OCCURRED BETWIXT HELEN,CONSORT TO MENELAUS,
(OR MORE CORRECTLY MENELAOS,
Μῆνις Λαοῦ
,
MEANING 'PEOPLE´S
WRATH')
AGAMEMNON´S
FAIRLY SIMPLE-MINDED YOUNGER BROTHER, HIMSELF A CROWN-
PRINCE OF MÝKÉNÁI. HELEN & TROJAN PRINCE, PARIS, CONDUCTED A
CLANDESTINE LOVE-AFFAIR RIGHT UNDER THEIR HOSTS´NOSES,
FELL MADLY IN
LUST/LOVE. WHEN WISER, NOBLER CROWN-PRINCE HECTOR, DISCOVERED
WHAT HIS IDIOT-BROTHER WAS DOING, HE QUIETLY WARNED BOTH TO
STOP THE AFFAIR AS WAR COULD ENSUE OVER THIS. OF COURSE, SO
HEEDED THEY NOT HECTOR´S ADMONITION & WARNING & AS THEY SAY,
"THE REST IS HISTORY". HELEN WAS SNEAKED (NOT SNUK)ONTO THE
TROJAN ROYAL SHIP ON THE DAY OF THEIR SCHEDULED DEPARTURE.
ONLY AFTER THEY WERE WELL UNDERWAY, UNDER-SAIL, TROY-BOUND,
AFTER ENOUGH DISTANCE & TIME, CAME HELEN OUT OF HIDING,
SHOCKING HECTOR.
HE WAS
ABOUT TO RETURN HER TO MYCENAE, HOPING SHE HAD
NOT YET BEEN MISSED OR THAT AGAMEMNON & MENELAUS HADN'T "CONNECTED THE
DOTS" & SECRETLY AS POSSIBLE, DROP OFF THE UNFAITHFUL WENCH. BUT IF THE
MYCENAEANS KNEW WHAT'D HAPPENED, HECTOR WAS READY & WILLING TO OFFER
PROFUSE
APOLOGIES FOR HIS LUSTFUL, YOUTHFUL & INCREDIBLY SELFISH ASSWIPE OF A
BROTHER & BEG NO RETRIBUTION BE TAKEN AGAINST TROY OR ITS PEOPLE,
AS THIS WAS 1) THE ACT OF JUST ONE IGNOBLE PRINCE, 2) MORE
IMPORTANTLY, THIS WAS NOT YET PUBLIC KNOWLEDGE & AT THAT TIME
COULD'VE BEEN KEPT SECRET, SO AS MENELAUS & ALL MYCENAE WOULDN'T
LOSE FACE, THUS REQUIRING A DUAL WITH PARIS, HELEN'S PROBABLE
EXECUTION, OR WORSE, A MÝKÉNÁIN MILITARY CAMPAIGN ON TROY. WHILE
HECTOR WAS CONSIDERING THE MATTTER WHILE SCREAMING AT BOTH PARIS &
HELEN, PARIS HAD CONVINCED HIM THAT TOO MUCH TIME HAD ELAPSED &
SURELY THE MYCENAEANS (JUST ONE CITY-STATE KINGDOM OF 100´S OF
HELLENIC/GREEKS/ACHAEANS POLITIES) HAD DISCOVERED HELEN WAS MISSING,
WE´D TAKEN HER & OF THE LOVE-AFFAIR. (PARIS WAS RIGHT). HECTOR
SO PISSED AT PARIS CONSIDERED MOMENTARILY OF DUMPING HIS SORRY
ASS OFF & LETTING HIM GO ONE-ON-ONE WITH MENELAUS, A MUCH
LARGER, FIERCER, BATTLE-PROVEN WARRIOR OF FAME, AGAINST HIS
TEENAGE, WIMPY BROTHER WHO´D NEVER DONE BATTLE. OUT OF LOVE FOR
HIS BROTHER, HECTOR SAILED BACK TO TROY, KNOWING WITHING WEEKS,
MONTHS OR WITHIN A YEAR THAT THE MYCENAEANS WOULD COME FOR
HELEN, KILL HIS BROTHER & ATTACK HIS CITY. BUT HE KNEW NOT
OF TWO THINGS, 1) TREACHEROUS AGAMEMNON´S A PRIORI AMBITIONS TO
DESTROY
OR TAKE OVER TROY. AGAMEMNON KNEW THAT HIS KINGDOM,
MÝKENÁI WAS NO MATCH FOR TROY, SO THIS INSULT TO MYCENAE, TO
AN ACHAEAN PRINCE, MENELAUS, WOULD BE TAKEN AS AN INSULT BY
MOST, IF NOT ALL THE ACHAEAN KINGDOMS, THUS THEY´D UNITE,
GIVE HUGE MILITARY AID, MEN, SHIPS,HELPING DESTROY MENELAUS'
& ALL ACHAEANS' HONOR. WRITTEN BY KENNETH S. DOIG
The Minoan civilization, which was prospering on Crete for several centuries, the first European high and powerful culture, suffered constant natural catastrophes: flooding, earthquakes and maybe volcanoes caused loss of population and destroyed towns and palaces. This moment Achaean sea fleet crushed Cretans, and the wave of conquerors from continental Greece invaded the island.
In ten or fifteen years all eastern Crete was conquered by Indo-European Achaeans which not only destroyed all achievements of Minoans, but also acquired much knowledge from their rich culture. The most valuable thing which was borrowed from Cretans was writing, the alphabet called Linear B script (see below).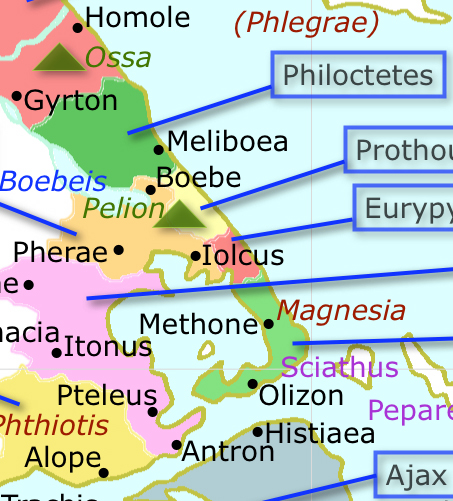 MAP OF ACHAEANS & TROJANS
In 1425 BC, the Cretan capital, Knossos, was completely destroyed by a major earthquake together with its famous palace. Neat this time other palaces in Phest, Kato-Zakro and Mallia became also deserted.
RUINS: ANCIENT ILION/TROY
This invasion meant the beginning of wide Hellenic expansion in the Mediterranean. They gradually occupied the majority of Cyclades islands, colonized the Asia-Minor shores, where the main city of Miletus was founded in the 16th century, and broadened their sea trade up to Italian and Iberian coasts.

1450 BC - 1050 BC The Linear B script is used in Greece

On coming to Crete, Achaeans discovered the complicated system of Cretan writing. The Linear A script, which was invented on Crete and still is not deciphered is believed to have been used by some non-Indo-European languages spoken there.
The number of characters in Linear A is estimated from 77 to 100. The script was syllabic, all syllables ended in a vowel. Another variety of it, called the Linear B, was successfully deciphered by Ventris and Chadwick, who stated that the script denoted an old form of Greek.
THE STANDOFF: ACHAEANS VS. TROJANS
MYKENAI'S KING AGAMEMNON, LEADER,
CHIEF-KING IN FRONT,
FACING US,
WITH HIS DUNCE-BROTHER,MENELAUS,
WHOSE CHEATING WIFE,
HELLEN,
SUPPOSEDLY STARTED THE WAR,
WITH THE LAUNCHING OF 1000
GREEK SHIPS
Linear B is also syllabic, that is why not quite suitable for the Greek language. First it was picked up by those Achaeans who came to settle to Crete, later spread to the continent: in the 13th century, it is found in Pylos and Mycenae (Mykenai).
TROJAN HORSE: BEWARE OF MINOAN SNAKE-PRIESTESS
GREEKS BEARING GIFTS CRETE (KRITI)
At all Linear B had 88 symbols, each of them denoted a syllable, combination of a consonant and a vowel. Several logogrammes denoted determinatives. The script did not make a distinction between long and short, voiced and unvoiced sounds, double-consonants, liquids r, l. Linear B was written in the Mycenaean-Greek dialect.

It was forgotten shortly after the Doric invasion. Doric tribes did not know writing, and obviously were afraid of it, because Greek myths reflect some strange unpleasant attitude towards the Mycenaean writing.



1400 BC Achaeans appear on Cyprus



After Crete was conquered by Achaean tribes, who borrowed cultural and scientific achievements from Cretans, now, Cyprus was subject to a similar invasion. The population in continental Greece was growing rapidly, and the lack of fertile lands made Greeks migrate in search for better homes and farmlands.
CYPROS ON A REGIONAL MAP ANCIENT CYPRIOT THEATER
Cyprus was partly populated by aboriginal nations, who are believed to belong to the same ethnic-groups as Cretans (Eteo-Cretans and Eteo-Cypriots), partly by Phoenician merchant colonists. For a long time the island was used as an important trading post of peoples of the Mediterranean, so it was rich and prosperous enough to be a dream of aggressors.
CYPRESS

The Cypriot writing-system, the famous Cypriot Syllabary, was also taken up by Achaeans, but was not used too widely for its complicated structure. Its structure was syllabic, syllables end in a vowel, no distinction was made between voiced, voiceless and aspirated consonants. Nevertheless, on the island documents written in it existed up to the 4th century BC.

The autochthonic population of Cyprus was made slaves, which were called the same as on Crete - mnoitoi. This word probably derives from the name of Minos, a legendary king of Crete.

1230 BC Achaeans conquer Troy (Ilion,Ilium, Wilius)
)


People long thought Homer (Homeros) simply invented Troy and its famous. His epic was considered as one of Greek myths, until an adventurer named Henrich Schlimann studied the Homer's texts attentively, went to Turkey and excavated Troy from one of deserted hills.

The war described in detail in the Greek epic, must have reflected one of the episodes of the war between Asiatic shore cities and Greek polises, the war for trade profits. Triy was a rather rich and influential, so Achaeans had to struggle cruel merchant competition with it.
It was evidently strong enough to resist the invasion, so Hellenic countires had to unite in order to destroy Trojan Asiatic power (Trojans spoke an Indo-Hitte/Anatolian subfamily of Indo-European, Luwian or Luvian. So their speech, many customs and base-myths were related and similar to that of the Achaeans/Hellenes/Argives/Greeks).
Another theory says that the Trojan war was just one of Sea-Peoples naval raids - Achaeans were one of the most active Sea-Peoples at that time. The city of Mycenae (Mýkénái) and its king, Agamemnon Atreides, were joined by several minor-Achaean-Hellenic polises

(city-states/small kingdoms)

and made the strong force.
GOLDEN MASK OF AGAMEMNON
The city´s siege lasted ten years, according to the poem, and then was captured and destroyed. Archaeological research shows that the town was eliminated by the fire.
Achaeans got the oportunity to settle on fertile lands in Western Asia-Minor

(Anatolia, today´s Turkey)

and also to establish prosperous colonies there. But it was the last military victory of Mycenaean Greeks; some 80 years later the civilization was crushed by Doric invaders.

1200 BC Achaeans start migrating to Crete, Cyprus, Asia-Minor

Constant pressing of Doric and Aeolian tribes from the north of Greece, economic problems and other, maybe unknown reasons force the Achaean population to leave their homes and go to neighboring Mediterranean islands, to Asia-Minor and even to Southern Italy. Probably, it was the first attempt of the future Great-Greek Colonization.
DORIAN INVASIONS

Taking an important part in the Sea-Peoples' piracy, Achaeans gradually settled in Crete, Cyprus, on the Aegean Islands, founded famous colonies on western Asiatic shores of the Mediterranean (Aegean).
They developed old ones, like Miletus, Galicarnassus, Colophon and others. At the same time the Achaean military force was preparing to the invasion of Troy, the richest (guarding a strategic choke-point on the only sea-traderoute, connecting the Black-Sea to the Aegean, the Mediterranean and finally the Atlantic. Known as the Bosporus, literally, Oxford) city in Asia-Minor.

Last relics of pre-Hellenic population of islands in the Aegean and the Mediterranean were slowly assimilated by Indo-Europeans from continental Greece.